Violence Prevention
Main Content
SIU Carbondale Violence Prevention and Response
 At SIU, we know that everyone has a role contributing to the safety and security of our campus.
The university's emergency response plan is based on based on national standards, and many staff members across campus have completed emergency response training in compliance with federal standards. In addition, a number of policies and procedures related to campus safety exist and are reviewed in the annual Security and Fire Safety Report.
While SIU is prepared for emergencies, we know that prevention and awareness can have the greatest impact on campus safety.
Violence Prevention and Preparedness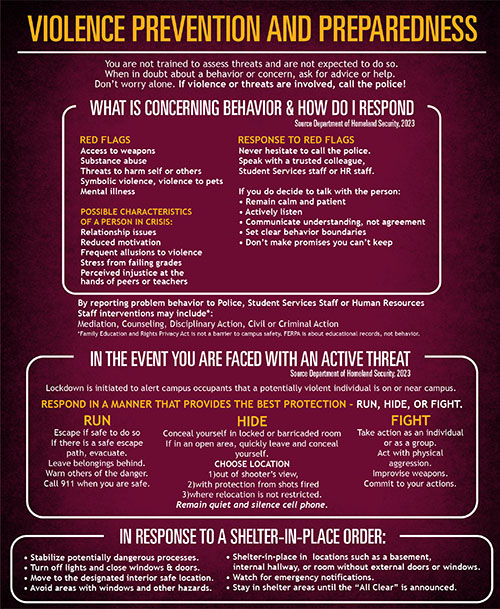 Identifying potential threats
Faculty, staff and students are encouraged to identify and report troubling behavior. The university has established collaborative, interdisciplinary and multi-jurisdictional teams to assess threats on a continuous basis. 
Among the behaviors that can be warning signs of a person in crisis or in need of intervention are:
Access to weapons, substance abuse, threats to harm oneself or others, symbolic violence or frequent allusions to violence, and violence to pets
Controlling behaviors, including attempts to isolate another person from friends and family, jealous behaviors, suicidal or homicidal threats, and property destruction
Chronic depression or mood swings, perceptions of injustice, isolating behavior, hostility, low self-esteem, excuses, blaming, relationship issues, reduced motivation or health, hygiene or substance abuse issues
If you believe that a person may be in crisis, do not hesitate to call the police or reach out to an appropriate office. If you believe the individual is an employee, contact Labor and Employee Relations. If you believe the individual is a student, contact the Office of the Dean of Students,  Counseling and Psychological Services or Saluki Cares.
If you are interacting with the individual, remain calm and be patient. Listen attentively. Communicate understanding, not agreement, set clear behavior boundaries, and don't make promises you can't keep.
Remember that most people are not trained to assess threats and are not expected to do so. When in doubt about a behavior or concern, ask for advice or help.  Don't worry alone. If violence or threats are involved, call the police immediately. The sooner a crime or violent action is reported the sooner police can intervene, catch the offenders and stop the problem from continuing. 
Violence and threats of violence are the result of an understandable and often discernable process. Interventions may include mediation, counseling, disciplinary action, and civil or criminal action. Students and staff have access to immediate medical care, counseling and other services. 
What to do if an incident occurs
While SIU has been recognized as among the top 100 safest colleges in the country, we know that incidents can happen anywhere. Should an incident occur, whether it is an active shooter or a severe weather emergency, you need to know what to do. Visit Emergency Preparedness now for information that will help you be prepared.
In addition, make sure you sign up for emergency text alerts so you are notified quickly. Alerts are automatically sent to siu.edu email accounts, as well.
To learn more about how you can stay safe on campus, visit safe.siu.edu. In addition, a number of prevention and education programs are available for campus groups. In addition, a number of prevention and education and wellness programs are available to individuals and groups on campus.
Important numbers
Important resources
Reference: Nicoletti, J., Spencer-Thomas, S., and Bollinger, C. (2001). Violence Goes to College. Springfield, IL. Charles C Thomas Publisher, LTD.